Lodge Charity Night
June 08, 2023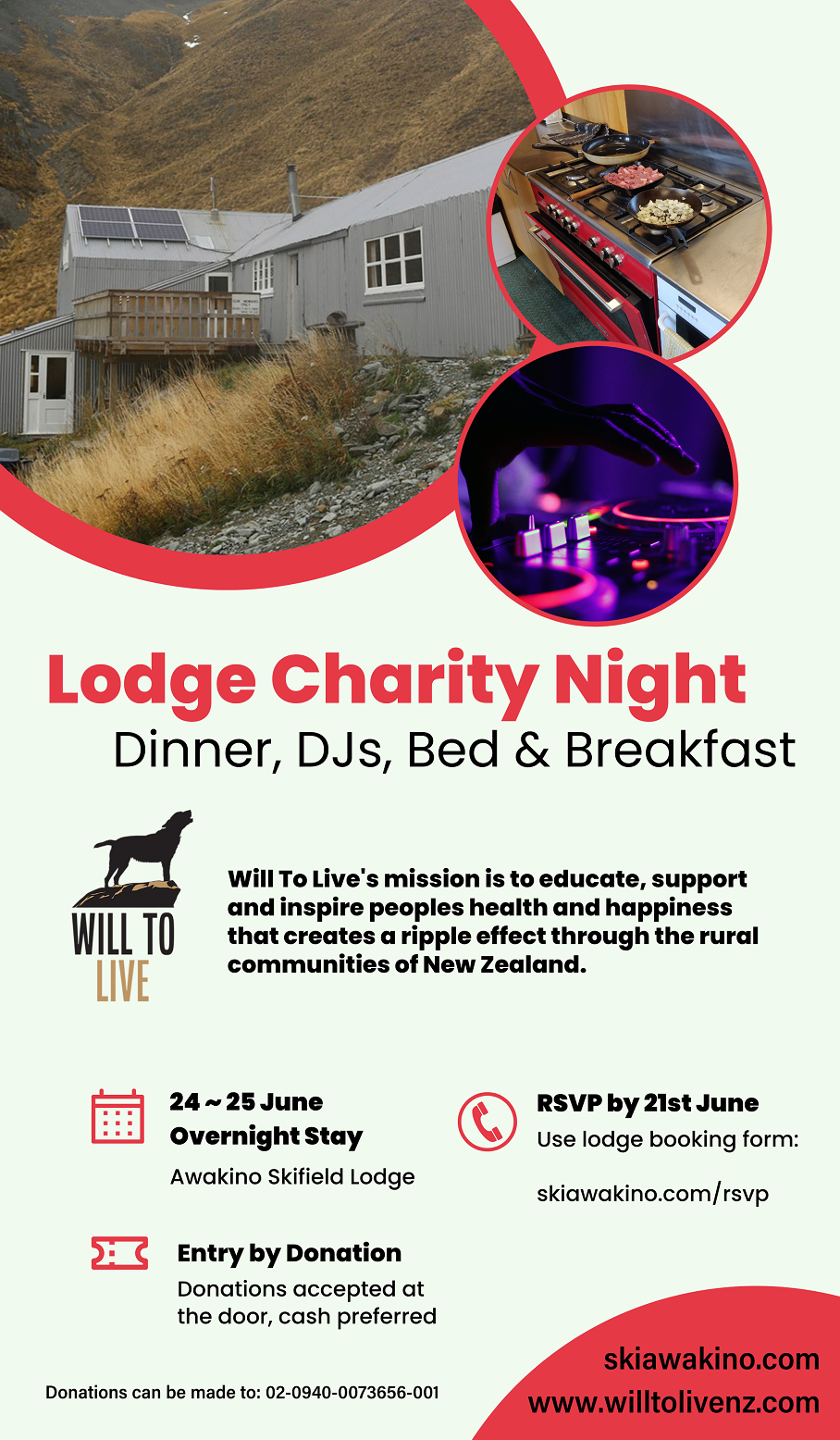 The Waitaki Ski Club is hosting a fundraising event for Will To Live at the Awakino Lodge this month.
We're providing dinner, DJs, bed and breakfast for all, in exchange for a donation to Will To Live NZ
If you are interested, please RSVP by the 21st of June, by visiting https://skiawakino.com/rsvp and filling out our new lodge booking form.
We have limited beds available, we'll be sure to let everyone know when/if we get a full house.
2023 Memberships
May 12, 2023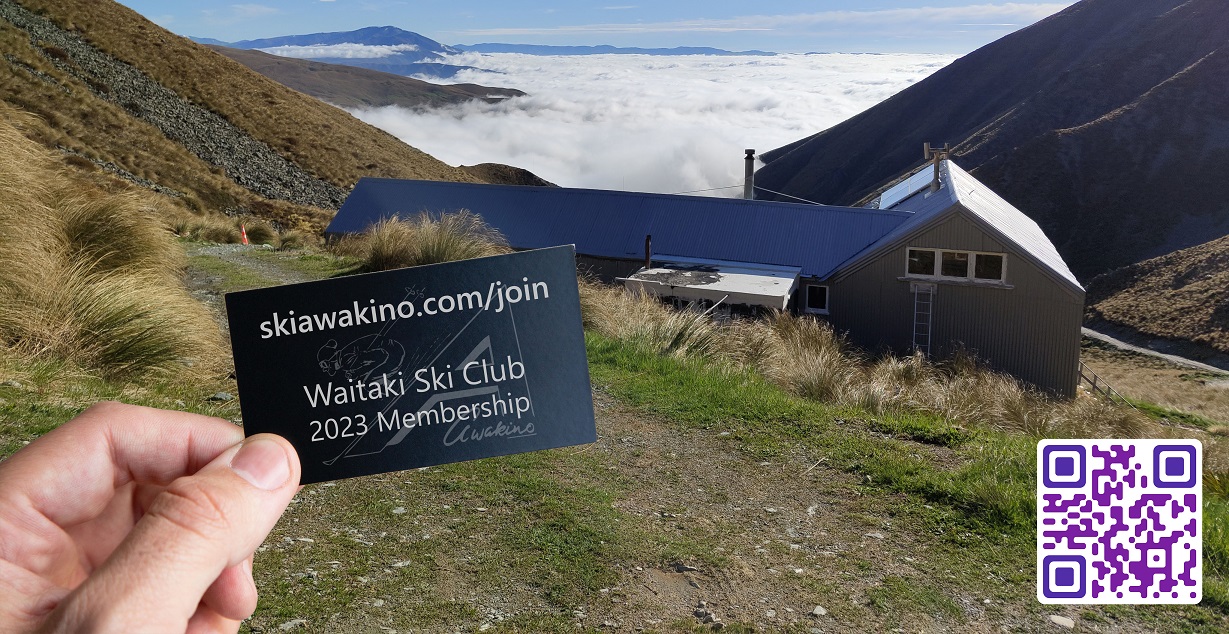 The first snow for the season has fallen!
Are you a snow enthusiast looking for a way to support your local ski club and stay in the loop?

For only $50 a year (less than a dollar a week!) you can help fund equipment maintenance, access improvements, and exclusive member events.

Plus, enjoy discounted rates on lodge and field access all year-round, free accommodation during bi-annual member weekends, and a quarterly newsletter with all the latest ski club news.

Join now and be first to know about upcoming openings and events. It's the perfect way to stay connected with your fellow mountain lovers.

Sign up today!
2022 Annual General Meeting
November 02, 2022
The annual Waitaki Ski Club general meeting is to be held at the Awakino Lodge on Saturday, 12th November at 12:30pm to 2:30pm, new members are welcome.
Members Event!
June 29, 2022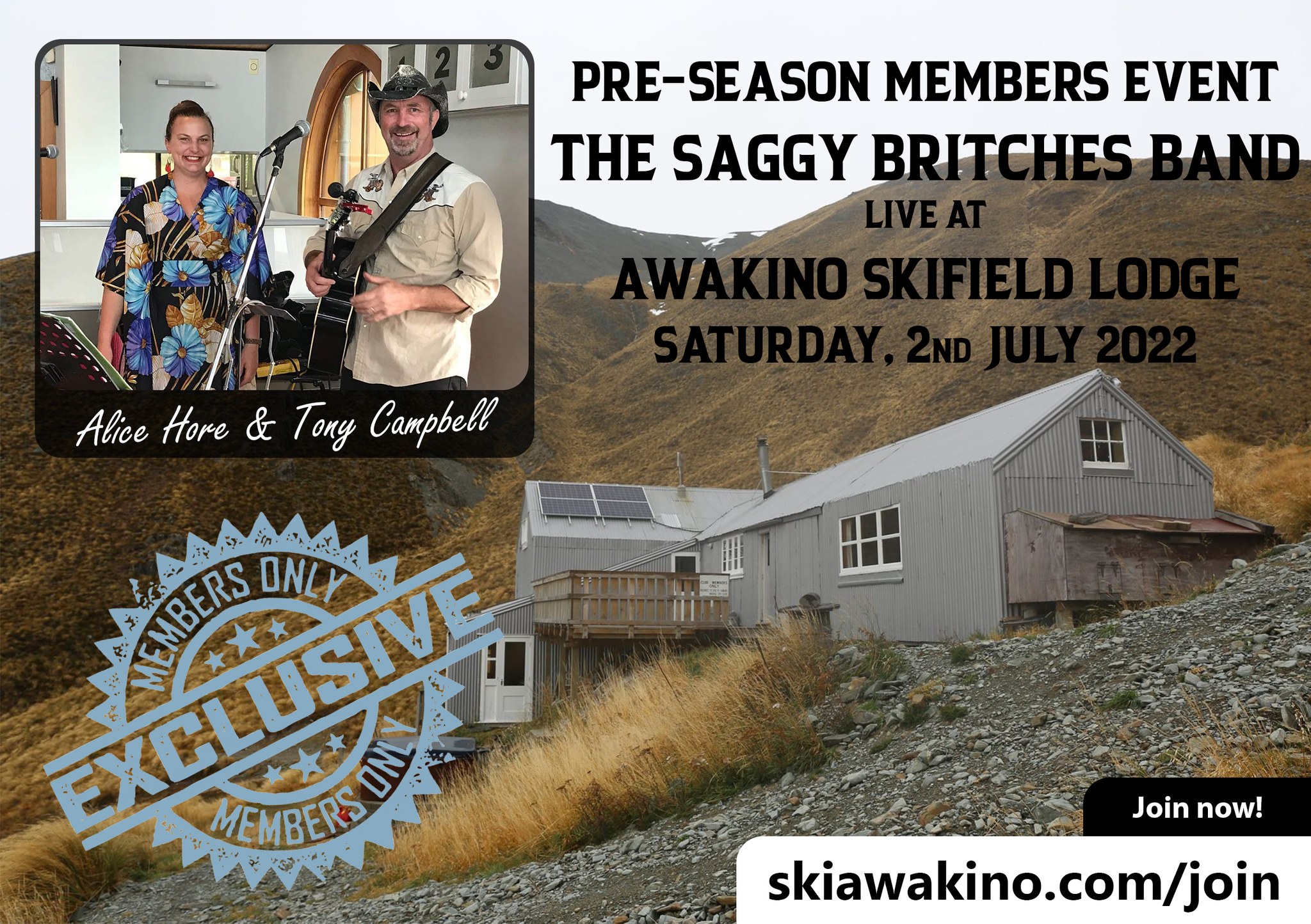 Our new Waitaki Ski Club membership initiative is LIVE!
We welcome membership from those who want to support the field and stay up to date with club activities and volunteer progress.
Every cent of membership contribution goes toward equipment maintenance, improving access, exclusive member events and general running costs.
To celebrate, we are hosting 'The Saggy Britches Band' LIVE at Awakino Skifield Lodge from 4pm, Saturday 2nd July 2022!
This is a FREE event for all new members! (Donations for kai welcomed)
Sign up today!
Opening delay
August 04, 2020
With the recent heatwave we're looking more like the start/end of season. The good news is that snow and cooler weather is predicted for later this week and we will reassess things early next week for a possible mid-Aug opening.
Road cleared
August 17, 2019
The road has been cleared, chains and 4wd from lodge. Main tow ready to run tomorrow!
Weekends already booked out for the lodge:
10-11 August
24-25 August
7-8 September (may be some space)
Which also means that access will be available these weekends, subject to snowpack assessment. The main tow may also be running too!
Let us know if you want to book in other weekends and need at least 10 or more to book the lodge.
We are open for access this weekend, but due to limited snow coverage, the main tow won't be operating. Accommodation is fully booked, but the next few weekends are open for bookings. Looks like some snow in the forecast!
July Update
July 26, 2018
We have done some pre-season training and have a good snow base on the main face. Solid bookings for the first 3 weekends of August, but plenty of lodge space after then. Mid-week opening planned for 20-24 August!
Snow is coming!
May 30, 2018
A nice base of snow is forming and we are aiming for our usual mid-July opening. Bookings have been received for 3 weekends already so get in quick to secure your weekend!
Storming
September 19, 2017
Some more snow from the recent storm and possibly the last weekend we will be spinning the tow! Accom available from Friday (22 Sept) night.